Welcome!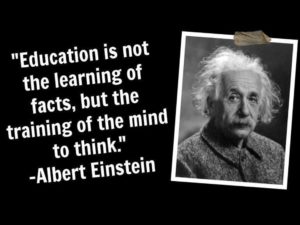 I have been thinking…critically, I hope. I sometimes wonder why more people are not asking questions. Do others wonder what is going on in the world? It is said that the definition of insanity is doing the same thing over and over and expecting a different result. Einstein has been credited to have said "You cannot solve a problem with the same thinking that created the problem." The origin of this very interesting statement doesn't matter. What matters is that students, through no fault of their own, are not learning how to think critically…even in college.
Do we have a problem? Most assuredly so, as you will see here. The problem is that though high schools and colleges say they teach students critical thinking skills, they clearly are not successful doing it based on this extensive report from  Inside Higher Education.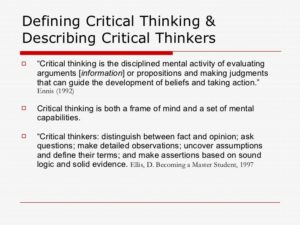 John Schlueter, the journalist, argues that even though higher education has placed a great emphasis on critical thinking, no evidence suggests that such skills can even be taught.  Critical thinking is a learned ability that MUST be taught.  "If we realize that 'critical thinking' implies a set of general thinking skills that transfer from one subject or domain to another, then the task of identifying exactly what those skills are becomes extremely difficult, and perhaps impossible, to accomplish," he says.
He points to research demonstrating that critical thinking only exists within the context that it is being taught, meaning that critical-thinking skills are rarely applicable across disciplines. Students must gain an exceptional amount of knowledge in a certain area before they can apply what they have learned to other fields of study.
I agree and also believe that instructors must gain a deeper understanding of how they approach thinking within their own disciplines to help students develop better cognitive skills. However, many of them are entering the teaching profession without being taught the basics of how to think critically themselves.
In every personal college planning binder, we prepare for our students,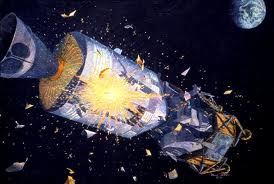 we include a 13-page transcript of a college professor's lecture he gave to over 350 other college professors, titled "An Introduction to Critical Thinking". The reader can download it for reference in my essay "Houston…we have a Problem!"   The professor points out that while professors presumably have the ability to think critically because they had to learn such a skill to earn advanced degrees in their respective disciplines, many students never develop critical thinking skills. Why not?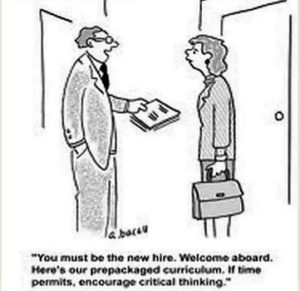 I believe the problem lies in that students are told "what to think," not "how to think". Many students find that learning the subject matter alone is so overwhelming that they have time for little else. Tests that are given do not measure a student's critical thinking skills. Tests demonstrate the student's ability to remember, dates, names, places, formulas etc. etc. and has little to do with critical thinking.
There could be good news on the horizon. It is called the "Collegiate Learning Assessment" or CLA. It is designed to measure the college graduates' ability to think critically by the time the degree is awarded. Future employers may be asking prospective employees for the CLA results. But because it is not a requirement by the colleges, the jury is still out as to its reliability. Nonetheless, look for yourself in this recent Wall Street Journal article. What do you think?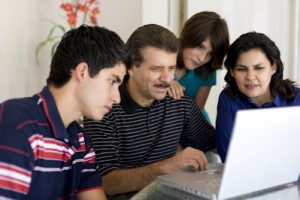 REMINDER: If you are looking for something specific on our website, simply type in a KEYWORD into "Search" e.g. Admissions, Scholarships, SAT, Advising, Drugs, Frontline, Essays, Major, Job and so on. This will bring up all the articles related to that topic. When you have more time, we hope you will check out the Archives or our "Super Cool" FAQ pages here, because much of the information there will be helpful in your college planning depending upon your year of graduation.
Plus! Check out our new College Success Formula website. Communicate with other parents around the country and watch many video tutorials at your convenience. Get your questions answered immediately on all college-related topics. Take advantage of our frequent FREE webinars on all aspects of college planning.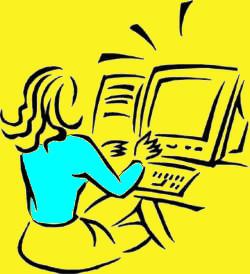 Some information, admissions and financial aid tips we have for you here, you will not find anywhere else. Plus, if you concerned about how to pay for college, we can show you how to pay for college from CASH FLOW ALONE. (See the last paragraph on that page.) Hundreds of parents have implemented this system and are not borrowing a nickel OR drawing down from savings. It is absolutely BRILLIANT!
We offer to high school students and parents a FREE 'get acquainted' 75′ consultation online via SKYPE, phone or in person, please call Eric Goodhart at 1 (978) 820-1295 or email using the 'Contact Us' link here.

"Exercising democracy between wars is like being a vegetarian between meals."