Tuesday, January 17th, 2017
We Saw Them Coming
At a seminar for college admissions advisers I attended in 1995, Don Bishop who is currently Associate VP of Undergraduate Enrollment at Notre Dame, made some very interesting and accurate observations. One of the important tasks of an Enrollment Manager on a college campus is to look at short term and long term trends in population growth.
Mr.  Bishop observed that the year 1999 would be the last year a bright high school graduate could assemble a list of six competitive colleges and be reasonably assured of acceptance somewhere. If not at his first choice, at least at the flagship university in his or her state of residence.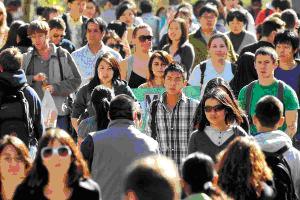 The rapidly increasing birth rate beginning in 1982 (ubiquitous baby boomers being the culprits, once again) have put increasing pressure on the college admission offices. Since the year 2000, the number of college-bound high school seniors has steadily increased each year. In fact, the graduation year 2014 was the largest high school graduating class in American history!
To compound the challenge is the fact the government, particularly the SEC, Congress and the private Federal Reserve have demonstrated a collective lack of oversight and/or fiscal malfeasance. This has further corrupted the fiat credit system that our nation's economy is based on. The negative impact on family savings and investments has forced more students to look at not just their state universities and colleges but their community colleges. But even these lower cost institutions may not accommodate all of the students applying in the coming years.
The New York Times article points out "Across the country, many community colleges have felt similar pressures. The battered economy drove many workers back to school to retool their skills, while others have eschewed a four-year degree in favor of a more affordable two-year program."
Therefore, much more deliberate and practical planning will need to be done as a family. Post secondary school planning with us begins with a "get acquainted" FREE consultation. For more information contact us here.