Friday, December 11th, 2009
In this era of the Common Application, Universal Application and relative ease of electronic filing, colleges are having a very tough time determining the percentage of students (yield) who will ultimately say "Yes" to their offer of admittance. The higher the yield percentage the more selective the school. Another way to look at it is the lower the acceptance rate, the higher the yield percentage. For instance, Harvard has a 7% acceptance rate and a 95% yield. Most colleges are not in such an enviable position. It becomes an "educated" guessing game for them. It is a tough job to determine who will say "Yes, I am coming; my $500 deposit is in the mail."
Over the years as student applications have increased, admissions officers and enrollment Managers wait nervously to hear from students by May 1. I call that "National Deposit Day". It is when the final college decision is made and the deposit check is sent to the student's college of choice.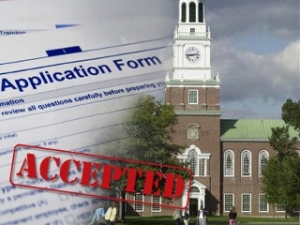 A few years ago, Boston College, Boston University and Dartmouth did not have room for all the incoming freshman. Dartmouth sent out requests for some matriculates' to delay college until the January term and Boston University put students up at the Ritz Carlton Hotel down the street. No extra charge!
Just this week, Cal State Long Beach, announced that it has received 72,245 applications from the Class of 2014 already. From that formidable amount they have to accept the proper balance of students to fill all their colleges within the University for a total of 5500 available spots.
The insightful article below will illustrate how many colleges do it…or try to do it.