Thursday, November 19th, 2009
6 Scams That Target College Students
By Kim Clark , US News & World Report 
Operating on the theory that it takes a thief to steal from a thief, a group of Internet scammers has been targeting students who illegally download music, books, and video.
The Chronicle of Higher Education has reported on an apparently bogus collections agency that sent out letters to Bucknell students demanding $500 to settle the students' alleged illegal downloads.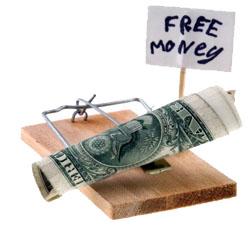 That's a new twist on an old strategy of targeting college students. Prosecutors say there are at least six common scams students should watch out for:
1. Fake scholarship promises: The Federal Trade Commission warns against advisers and Web services that charge big fees in return for help locating scholarships.
2. Dodgy student loans: U.S. News's Kim Palmer documented how some students have been misled by official-looking documents that were really ads for expensive loans.
One silver lining of the recent economic downturn is a reduction in expensive private loans and lenders. But the FTC says students still need to make sure they stick with low-cost, legitimate education loans. The best deals, says the Project on Student Debt, are the federally backed student loans such as the Perkins (which charges just 5 percent in interest) and Stafford loans. (more…)