College Admissions Uncertainty
The State of College Admissions: Full of Uncertainty
By Eric Hoover
As the numbers of college applicants and applications have gone up, many colleges have seen other things go down, including their acceptance rates, their "yield" rates, and their confidence in predicting enrollment outcomes.
A new report from the National Association for College Admission Counseling puts that trend in context. For the fourth straight year, about three-quarters of four-year colleges and universities saw an increase in applications over the previous year, says the report, which examined the admissions cycle for freshmen who enrolled in the fall of 2008. Twenty-two percent of those applicants had submitted seven or more applications, up from 19 percent in 2007. 

 In an analysis of data from the U.S. Department of Education, the report's authors also found that from 2001 to 2007, the average acceptance rate at four-year institutions fell to 66.8 percent, from 71.3 percent. During that time, the average yield rate—the percentage of admitted students who enroll—declined to 45.2 percent, from 49.1 percent.
To shed further light on those changes, the authors analyzed numbers from institutions that had submitted complete admissions data to the Education Department for 2002 through 2006. They found that during that time, the number of applications increased by 24 percent, and the number of applicants that colleges accepted increased by 20 percent. Moreover, the number of enrolled first-year students increased by nearly 10 percent, indicating that colleges made more room as the number of students graduating from high school rose, peaking at 3.33 million this year.
"While the average acceptance rate across colleges is an important admission statistic," the authors wrote, "ultimately, it is an imperfect measure of an individual student's chances of admission that masks the complexity of the college admission process."
The report, State of College Admission, is published annually by the association, known as NACAC. Based on surveys of member colleges and high schools, the report reveals key trends in the admissions profession.
One significant change involves how students are applying. According to this year's report, colleges and universities received an average of 72 percent of their applications online in 2008, up from 68 percent in 2007, and 58 percent in 2006.
The report also includes a snapshot of early-admission programs. Although the growth in such programs appears to have slowed, 49 percent of colleges with early decision reported increases in early applications in 2008, compared with 63 percent in 2006. Meanwhile, 65 percent of colleges with early action reported increases in early applications in 2008, compared with between 70 and 81 percent from 2005 to 2007. (Under early-decision plans, applicants commit to enroll if admitted; under early-action programs, applicants are not obligated to accept an admissions offer.)
Overall increases in applications mean more work for admissions staffs. During the 2008 admissions cycle, an admissions officer was responsible for reading 459 applications, on average. Admissions officers at public institutions had to evaluate more than twice as many as those at private colleges.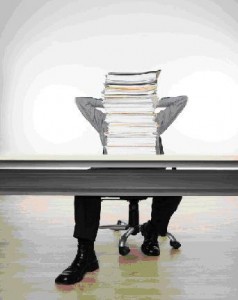 During that time, admissions offices spent an average of $1,648 on each student who enrolled.
The report includes an analysis of more recent data compiled by the association. A survey report called "Effects of the Economy on the Admissions Process, 2008-09," published last month, described how the economic downturn had affected admissions. In that survey, 15 percent of high-school counselors reported increases in the number of student who planned to postpone college because of financial concerns.
Amid projected demographic shifts and the possibility of a prolonged recession, the demand for financial aid is unlikely to decline, the report's authors concluded.
"Although many colleges were able to respond to increased financial-aid demand during the fall 2009 admission cycle," they wrote, "it remains unclear how far colleges can stretch their financial-aid resources."
The latest report, "2009 State of College Admission," will be available on the association's Web site.
October 20, 2009